PMP®: on the track to a bright professional career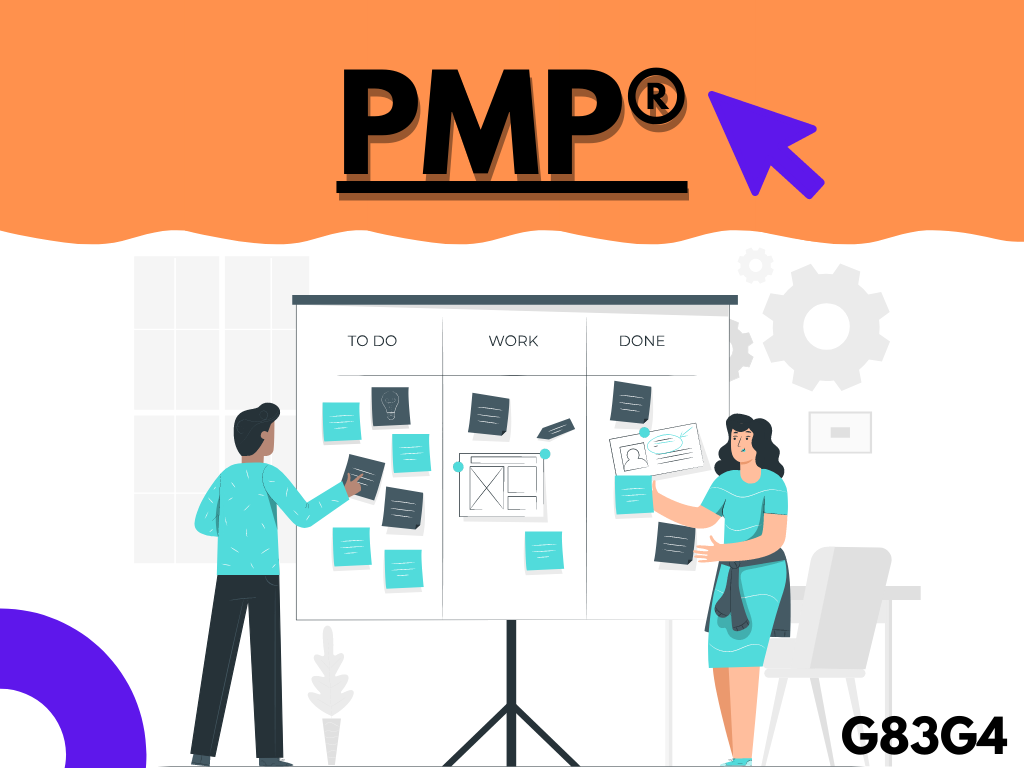 In the current socio-economic scenario, which has been dramatically aggravated by the Covid-19 pandemic, there is a surplus of job seekers derived from the worrisome lack of labor opportunities.
Recognized executive positions such as Project Manager have become a genuinely attractive option for those pursuing respected and well-paid positions within firms. Similarly, companies have also increased their demand for such occupations due to the incremental need for control and task optimization. However, the tendency shows a shortage of qualified professionals to fill those roles, probably because of the required level of expertise as well as the great responsibility the job implies.
The bright side about it is that, if you are interested in working as a Project Manager, you can easily do so by passing the PMP certification exam, which has been endorsed by the most prestigious entities in the managerial field.
What is PMP?
The Project Management Professional (PMP) certification is a title granted and arranged by the Project Management Institute (PMI), a renowned American organization supported by more than 170 countries worldwide. The qualification's main purpose is to guarantee that those certified have thorough expertise in the Project Management field, as the accreditation's exam is tailored according to the PMBOK guide, a famed manual which provides a structured framework for the orientation and development of projects.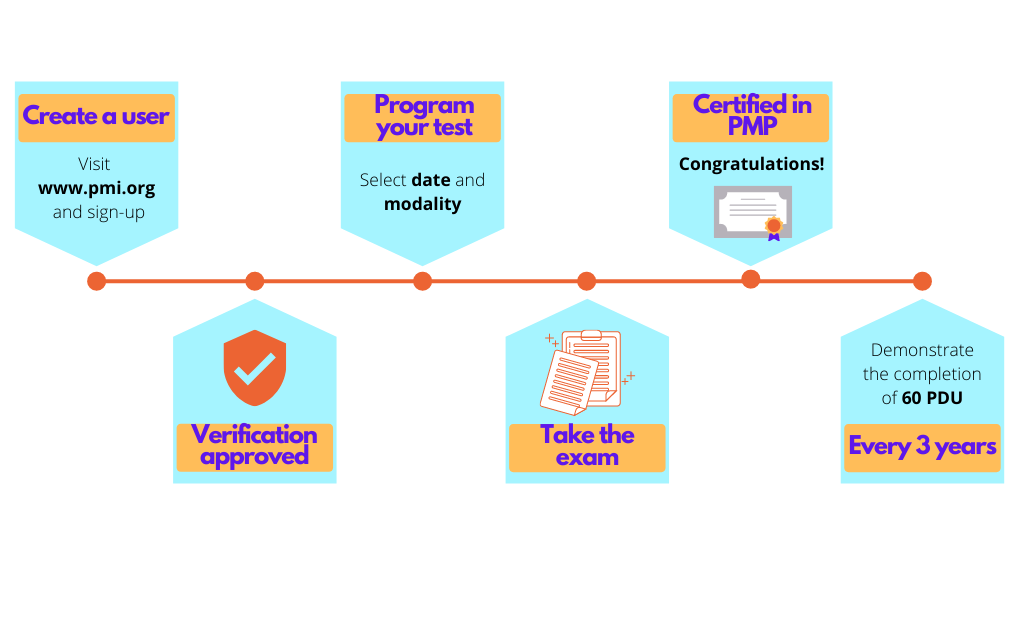 Even though the certification is by no means compulsory to access a job position, an increasing number of companies are favoring those professionals who possess it, being a powerful indicator of an individual's ability and dedication to his/her career.
Then, as any major decision in life, we understand it requires a fairly extensive process of deliberation and research, for which the first step is to gather as much information as possible.
Project Manager positions and expected salaries
Subsequently, the initial logical question that might prompt is what a Project Manager is, or to put it clearer, which are the functions this professional is expected to overtake.
The Project Manager professional is the figure in charge of ensuring the company's teams are capable of successfully achieving the set goals in a given time frame, with a limited budget and minimizing the necessary inputs. This renders him/her an indispensable player in the development of any organization, since the Project Manager is present in all phases of any business endeavor.
Thereafter, companies are well justified in actively soliciting professionals in this sector, and the PMP certification proves to be an important competitive advantage to corroborate skills and competences.
In fact, according to the IMF Business School, each year the number of professionals enrolling for the certificate increases by 6.79%, then confirming the qualification is a synonym of competitiveness and efficacy.
So, although the certification ensures you valuable knowledge for any management position, there are 6 jobs that distinguish themselves as particularly suitable with regard to the PMP.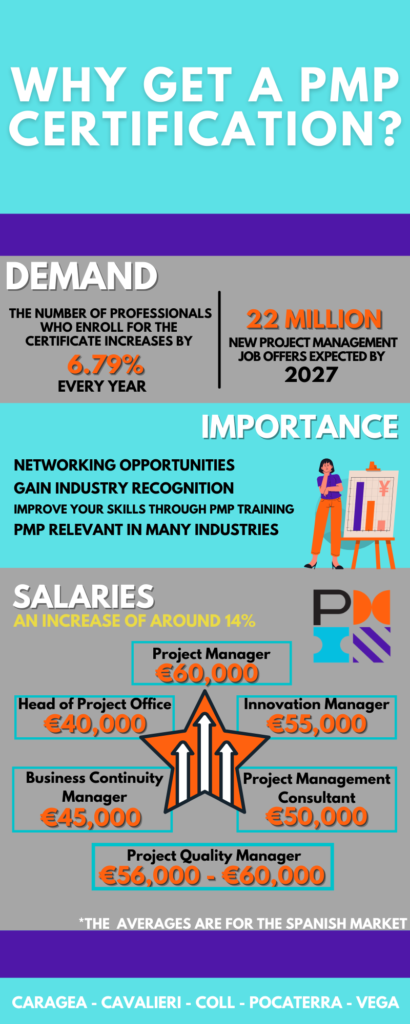 The first, and most obvious, is the title of Project Manager, who, as we have already mentioned, is in charge of designing the projects' workflow as well as overseeing its execution. Additionally, he/she will also be responsible for decision making, problem solving and team leadership. The average salary in Spain is around €60,000 per year.
In parallel, another important position is that of Project Quality Manager, which has a direct connection with the evaluation of the project phases, and by extension with the final result of the same. The estimated salary in Spain is 56.000€ – 60.000€ per year.
Likewise, the principal aim of an Innovation Manager is to search for enhancements that develop the company's competitiveness, especially within processes and business models. Thus, his/her job is to coordinate the team members so they can find ways to build projects in less costly and higher quality ways. The expected salary in Spain for this position is 55.000€ per year.
Then, there is also the Head of Project Office role, whose main goal is to ensure the correct implementation of each project's phase so the firm's strategy can be reinforced through the generation of economic value. In Spain, the usual wage for such a job is around 40.000€ per year.
Similarly, the Business Continuity Manager is the professional liable for providing complete solutions to different detrimental situations that could affect the company's continuity. His/her aim is basically to deal with unforeseen events to minimize its possible economic impact. Their salary in Spain is around 45.000€ per year.
Lastly, there is the Project Management Consultant, whose function is to inform, advise and offer useful opinions regarding certain aspects of a project, so it can ultimately achieve the initial posted purposes. In Spain, the average wage for this position is 50.000€ approximately.
"PMP certification holders command 14% higher income than their uncertified counterparts"

Master of Project Academy
How to get certified?
If what you have read so far has caught your interest, you must be wondering what steps to follow to get certified.
Once the applicant has decided to get accredited, the next step is to wholly understand the process to follow to obtain the recognition.
First, access the Project Management Institute's website (www.pmi.org) to create a user, in which contact information as well as academic background will be requested. The applicant will find the PMI itself demands two prerequisites to be able to continue with the process: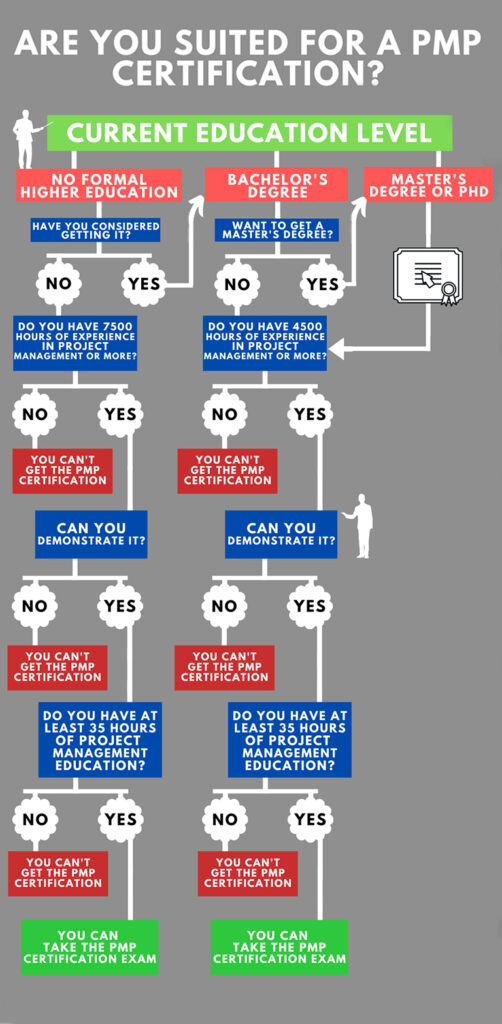 The first consists of having attended a Project Management course of at least 35h of duration, the execution of which must be accredited by a diploma.
On the other hand, experience in the field is also required, of which 4500 hours of expertise is mandatory in case of possessing a professional title (for example, the Certified Associate in Project Management certification) or 7500 hours in case of not having any qualification. Such conditions must also be certified by providing detailed information about the performed projects – dates, providers, clients…-. Such hours may not overlap, meaning that if you undertake two projects simultaneously, dedicating, for instance, 200 hours to each one, the cumulative total will be of 200 hours, not 400.
Once the registration is completed, the PMI takes up to 5 working days to review and archive the data entered. For verification purposes, the entity audits a certain percentage of requests, and in case of doubt or error, clarification will be solicited within a maximum of 90 days. Otherwise, the applicant will receive a confirmation indicating the exam payment can be done. Regarding prices the certification is up to either 465€ or 340€ in the case the applicant is a Project Management Institute member.
Afterwards, the date, time, modality (online or in-person) and examination office can be chosen, the former within a maximum period of one year after the payment date. The test will then be programmed, and the registration process will be finalized.
The test comprises 5 different lengthy sections, all referring to the maturing stages of a project: Initiation, Planning, Execution, Monitoring and Closing, with a total of 200 multiple choice questions. Due to the exam's complexity, and since 61% is the minimum passing score, it is advisable that the candidate makes an effective study schedule by means of a school specialized in PMP, whose syllabus is aligned with the latest version of the PMBOK guide. It is also appropriate to practice with an exam-type question simulator, which is often an essential learning tool as well as useful to understand how a real test works.
Once the certification has been obtained, professionals must continue their education to fulfill the qualification criteria. To do so, they must demonstrate the completion of 60 Professional Development Units (PDU) every 3 years, which may derive from activities such as public speaking or writing academic articles. Failure to meet this condition will result in the loss of the designation.
Recommendations while preparing
If looking for further support on your Project Management education, there exist plenty of resources that candidates, or even certified professionals may deem useful to further their knowledge.
On one hand, and regarding official institutions, the University of California-Berkeley and Stanford University are the most competitive places to study, since they offer several advanced Project Management programs which can be taken on-person or online.
Then, if you are more interested in exclusively passing the PMP exam, the Project Management Institute recommends some authorized training partners, which will teach you the needed insights to succeed on the final test day.
Meanwhile, if you want to hear from other candidates' experiences, you may like to join specialized LinkedIn groups or even to consult some blogs.
Ultimately, if you want to learn a bit more about the certification, we encourage you to watch this interesting video, which englobes all that has previously been explained.
Does PMP guarantee success?
With all this information at hand, the last factor to consider is whether you are truly willing to invest the required time in getting certified.
Then, if aiming for a guaranteed future, we are afraid to tell the PMP will not ensure a brilliant career if the licensee does not possess the necessary additional competencies. Managerial positions are ones of considerable responsibility, demanding not only theoretical insights but empathy, leadership, and coordination. Without such skills, the credential will never be thoroughly effective.
Anyhow, today's labor world is extremely competitive, so resumes' differentiation or being fully aligned with business needs is vital when it comes to job seeking. For this, and as we have already covered, the PMP certification may be an excellent advantage.
A real case
To understand how the PMP can be a relevant source of distinction, let us analyze Conrado Morlan's success story.
According to Morlan's own words, the first time he became aware of the titles offered by the Project Management Institute was when he started working in Mexico. At this new job, no one seemed to give him proper instructions to follow, so he found himself digging into decision-making tools. As he kept learning, he became more comfortable with risk management and project integration tasks, so he finally attempted the PMP exam.
Once he managed to get the certification, he realized the importance of being validated by the largest association in the field, since although the title did not guarantee his recognition overnight, it did open some interesting professional opportunities for Morlan.
As a point, Conrado remarks that what made people successful in the past might not guarantee their success today, which makes sense bearing in mind that society's constant evolution pushes us to keep advancing.
"Why not step out of your comfort zone?"

Conrado Morlan
If reading this, it means you have finished the post. We are grateful for your time and hope you enjoyed learning about the PMP certification. Furthermore, we truly expect you to consider taking advantage of the title since it has quite a lot to offer for most professional profiles.
What about us?
"I am always willing to learn new things and expand my horizons. I love discovering new cultures and their languages, as well as programming"

Alexandru Cristian Caragea
"I am a student at the Carlos III university studying the degree of Management and technology along with a minor in informatics. My goal in the short term is to successfully join a business that is revolutionary and trying to change the world like google or Tesla, and in the long run I would like to create my own company with the experience that I gained in those years"

Andrés Cavalieri Tabernero
"Currently a student of the Management and Technology degree, interested in learning new languages and about other cultures. In the future, I would like to focus on the fashion industry or in the tech sector. I love to travel and meet new people"

Samantha Coll Rieffel
"I am a Management and Technology student with high interests in economics, data analysis and programming. Bringing forth a wide variety of skills in such fields. I am looking forward to my development in the business world and I am eager to continue widening my skill set and knowledge to become a crucial piece of whichever company I am part of"

Andrés Pocaterra Ayala
"As a 2nd year student of the Management and Technology degree, I am genuinely interested in any innovative application that may be relevant to the business field. I am also keen on literature, so in the future I expect to get a position which entitles me to merge books and technology"

Verónica Vega Frontón
References
Best College Reviews. (2021). What is a Project Management Professional certification? Retrieved from https://www.bestcollegereviews.org/faq/project-management-professional-certification-pmp/
CBT Nuggets. (2018). What counts as a Project Management experience? Retrieved from https://www.cbtnuggets.com/blog/career/management/what-counts-as-project-management-experience
EIPE Business School. (2020). Professional Outings from the Project Management master. Retrieved from https://www.eipe.es/blog/salidas-profesionales-direccion-proyectos/
Marinelli, Tyler. (2017). What are the PMP prerequisites? Magoosh PMP blog. Retrieved from https://magoosh.com/pmp/what-are-the-pmp-prerequisites/
Morlan, C. (2021). A PMP® Success Story. Project Management Institute. Retrieved from: https://www.pmi.org/certifications/project-management-pmp/earn-the-pmp/why-the-pmp/pmp-success-story
Palmer, Ava. (2020). PMP passing score: what is PMP exam pass rate? Project Hippo. Retrieved from https://projecthipo.com/pmp-passing-score-pmp-exam-pass-rate/#:~:text=There%20is%20no%20official%20PMP,%2C%20or%20'Below%20Proficient
Pérez, Anna. (2016). Project Management Professional certification: price and possibilities. OBS Business School. Retrieved from https://www.obsbusiness.school/blog/certificacion-project-management-professional-pmpr-precio-y-posibilidades#:~:text=Y%2C%20para%20los%20que%20se,no%20miembros%20de%20la%20organizaci%C3%B3n.
Project Management Institute. (2021). Authorized training partners. Retrieved from https://www.pmi.org/learning/training-development/authorized-training-partners
Project Management Institute. (2021). Project Management Institute blog. Retrieved from https://www.projectmanagement.com/
Project Management Institute. (2021). Project Management Professional (PMP). Retrieved from https://www.pmi.org/certifications/project-management-pmpProject Management Online. (2018). 13 best schools for
Project Management certification. Retrieved from https://projectmanagementonline.org/best-schools-for-project-management-certification/